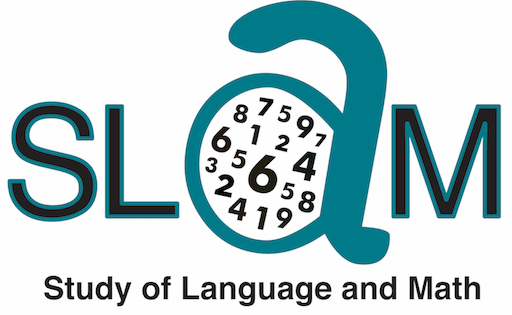 Participate in our study!
If you would like to have your child participate in our study, please click the button
Questionnaire Fill-Out
If you have signed up your child to participate in this study, but need to fill out the background questionnaire, please click below.
Here at Study of Language and Math, directed by Dr. Marie Coppola, we study how language impacts mathematical development within Deaf and Hard of Hearing children.
Find us on Facebook and on Twitter!
For more information on our SLAM project see the link below.
News
New Site Launched

We are proud to announce the launch of our new website. Built on the the university Aurora service, this new version of our site sports a modern look, faster loading times, and works on all mobile and tablet devices.
Upcoming Events
Sunday, June 25th, 2017
12:00 AM - 11:59 PM
Storrs CampusHorsebarn Hill Arena
The UConn Department of Animal Science offers several sessions of summer horseback riding lessons in dressage, hunt seat, polo, trail and western to students, faculty, staff and the public and registration is now open! Visit http://www.uconnsummerriding.uconn.edu to learn more and sign up today!
Sunday, June 25th, 2017
07:00 AM - 07:30 PM
OtherColumbus Ohio
Dedicated to all disciplines in engineering education, the conference is designed to foster the exchange of ideas, enhance teaching methods and curriculum, and provide networking opportunities for engineering and technology education stakeholders. VentureWell's Victoria Matthew will present a paper and poster at the conference on institutionalizing campus innovation & entrepreneurship programming. The event takes place June 25-28.

https://www.asee.org/conferences-and-events/conferences/annual-conference/2017
Sunday, June 25th, 2017
02:00 PM - 04:30 PM
Storrs CampusHarriet S. Jorgensen Theatre
Perhaps the funniest comedy every written, Noises Off, is a madcap hilarious farce. A troupe of traveling actors rehearses a flop called Nothing's On. The antics and intrigue on and offstage make chaos for the cast on the eve of opening night. Doors will slam, love triangles will tangle and misplaced sardines create an uproarious, rollicking night of theatre in this play within a play. Prepare yourself for nonstop laughs with this award-winning comic masterpiece!

To purchase tickets:
http://crt.uconn.edu/shows/noises-off/
All Events »
Contact Us
Phone:
1-860-486-2185
E-mail:
slam_uconn@uconn.edu
Address:
406 Babbidge Road
Unit 1020
Storrs, CT 06269