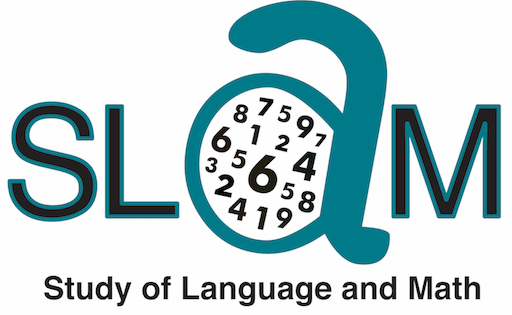 Participate in our study!
If you would like to have your child participate in our study, please click the button
Questionnaire Fill-Out
If you have signed up your child to participate in this study, but need to fill out the background questionnaire, please click below.
Here at Study of Language and Math, directed by Dr. Marie Coppola, we study how language impacts mathematical development within Deaf and Hard of Hearing children.
Find us on Facebook and on Twitter!
For more information on our SLAM project see the link below.
News
New Site Launched

We are proud to announce the launch of our new website. Built on the the university Aurora service, this new version of our site sports a modern look, faster loading times, and works on all mobile and tablet devices.
Upcoming Events
Tuesday, September 19th, 2017
12:00 AM - 11:59 PM
OtherThe Golf Club at Oxford Greens, 99 Country Club Drive, Oxford, CT 06478
Hosted by Andy Tedford '86

Registration: 11AM
Barbecue Lunch: 11AM
Tee Time: 12:30PM
Cocktails: 5:00PM
Dinner & Prizes: 6:00PM

Register today with Debbie Philips at the UConn Center for Real Estate
Tuesday, September 19th, 2017
10:00 AM - 12:00 PM
Storrs CampusMcMahon Hall, Room 183
This workshop is for F-1 visa holders only!

What is Optional Practical Training (OPT) and how can you benefit from it? Are you looking to work a summer internship this year? You must have proper work authorization before you can start any off campus employment. The workshop will cover the basics on OPT, work authorization, including filing procedures, post-completion OPT work requirements, OPT extension opportunities and MORE!

Sign-up is required. Please Sign up for an appointment: http://www.icworkshops.uconn.edu .

More information available at: http://www.isss.uconn.edu
Tuesday, September 19th, 2017
11:00 AM - 12:00 PM
UConn HealthE4036
***NOTE: TIME & LOCATION***


Sponsored by the Kim Family Fund

Presenter:
Emma Andersson, PhD
Assistant Professor
Department of Biosciences and Nutrition
Karolinska Institute, Sweeden

Title: "A novel model for Alagille syndrome, and development of a high throughput technique to investigate gene function in the nervous system"

Host:
Dr. Stephen Crocker, crocker@uchc.edu
All Events »
Contact Us
Phone:
1-860-486-2185
E-mail:
slam_uconn@uconn.edu
Address:
406 Babbidge Road
Unit 1020
Storrs, CT 06269